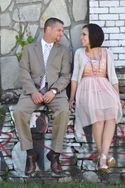 .......A little history
      Nathan Horton grew up near Sparta, TN. His dad is a pastor and since Nathan was born, church is all he has ever known. When Nathan was 9 years old, he recieved a guitar as a Christmas gift. His dad showed him three chords that day and his love for music began to take off from there. Nathan came to know Christ at the age of 19 and from that point on he knew he wanted his talent to refect the love of God. In 2000, He along with his cousin, Bryan Simmons, started the group "Set Apart" and traveled for over 11 years. 
 When Nathan is not on the road singing he likes to spend his time recording, writing songs with his wife Tonya, hunting and fishing.He enjoys spending time surronded by his family and friends and is always looking for a good laugh!
 Tonya Horton was raised in a small town right outside of Asheville, NC. She too had a strong Christian upbringing. Her family shares the same home church as the Primitive Quartet. They began attending Maple Ridge Baptist Church when Tonya was only 6 years old. Tonya accepted Christ at the age of 7 and knew she wanted to share her testimony of faith everywhere she went. After seeing Sonya Isaacs perform one summer at Hominy Valley, Tonya knew she wanted to play and sing. She saved up her change in a tin and at the age of 9, bought her first mandolin. She started playing and singing in church when she was 12. Tonya began writing songs at the age of 16 and recorded her first project at the age of 17. She enjoys spending her time off the road, cooking, shopping, visiting family and friends.